Last Updated on April 4, 2022 by Eric Bonneman
Having the right tools for the job is paramount to your success on the water.   Shimano is the perennial favorite of professional and recreational anglers worldwide, making cutting-edge products that give fishing enthusiasts the confidence they need in their angling pursuits.  
Shimano has done it again this year.   New for 2022, Shimano's Stella FK is the perfect reel for a variety of freshwater and saltwater applications. This flagship product is designed with the highest standards of quality, giving anglers unmatched consistency and durability.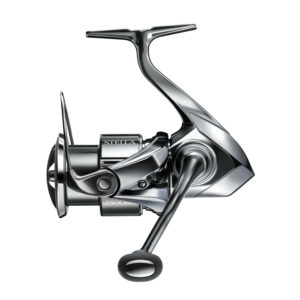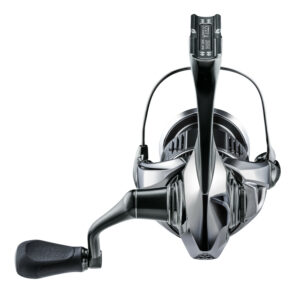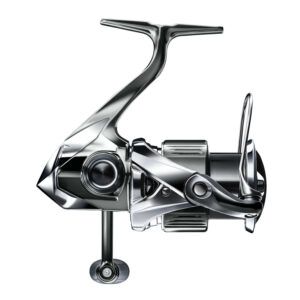 Shimano's Stella FK features cold-forged HAGANE gears fortifying the reel for long-lasting use with their amazing rugged technology.   They've also included InfinityXross technology and MicroModule II technology that disperses the forces on the gears across a wider spectrum, resulting in more power and durability. Shimano has cracked the code for gear longevity by spreading contact points across a larger area, creating a reel that outlasts the rest.
The Shimano Stella FK uses InfinityLoop technology, allowing for a better and more even lay of the line, which directly affects castability and reeling performance. Furthermore, Shimano's new Anti-Twist Fin aids in the elimination of dreaded line twist issues. This incredible new technology is a small, elastic polymer tab located at the base of the roller, which is designed to stay in contact with the line providing steady tension on the line as it re-enters the spool. The result is nothing short of amazing. 
Additionally, the DuraCross drag system provides unmatched power to fight fish with robust drag management tools. Their newly designed drag knob allows for outstanding control and line management giving anglers a reel that's well equipped to do battle.  
2022 Stella FK Models, Sizes, Weights, and Line Capacities:
| ITEM CODE | MONO LINE CAPACITY (#TEST/YD) | WEIGHT (OZ) | BEARINGS | GEAR RATIO | RETRIEVE PER CRANK (IN) | POWERPRO BRAID (LB/YDS) | MAX DRAG (LB) |
| --- | --- | --- | --- | --- | --- | --- | --- |
| | 2/270, 4/160, 6/110 | 5.8 | 12+1 | 5.1:1 | 25 | 10/95, 15/75, 20/65 | 7 |
| | 8/140, 10/120 | 7.4 | 12+1 | 5.8:1 | 34 | 10/150, 15/145, 30/100 | 20 |
| | 10/200, 12/160 | 9.2 | 12+1 | 6.2:1 | 40 | 15/230, 30/180, 50/120 | 24 |
| | 6/230, 8/170, 10/140 | 7.4 | 12+1 | 6.4:1 | 37 | 10/200, 20/140, 40/105 | 20 |
| | 12/195, 14/165 | 9.2 | 12+1 | 6.2:1 | 40 | 20/260, 30/235, 40/185 | 24 |
Notes From Our Pro Desk
Shimano's Stradic FK spinning reel was designed for those who demand toughness and durability in their reels. With Hagane gearing and body, this reel is built to crank with the best of them and stay rigid under pressure. X-Ship technology ensures smooth, consistent performance every time you hit the water. So if you're looking for a reel that can handle anything you throw at it, look no further than the Shimano Stradic FK.
Final Word
If you're looking for the best advice from knowledgeable staff that understands the intricacies of fishing reel design and the significant effects of equipment performance on your fishing success, visit or contact Avid Angler in St. Augustine. Their professional service and expert advice can provide the guidance you need before making your next reel purchase. In addition, they are extremely well-versed in fishing reel technology and are ready to answer any questions you may have regarding the pros and cons of various reel options.  

Avid Angler of St. Augustine is proud to offer the Shimano Stella FK as a premier reel for the serious angler ready to step up their game to top-notch equipment.   From its sleek design to its outstanding durability, the Stella FK is a top-of-the-line reel that delivers first-rate performance.   Visit Avid Angler soon to see why this new technologically advanced reel blows away the competition. This reel is simply incredible!