Last Updated on August 15, 2022 by Eric Bonneman
If you're a new hunter looking for a new and exciting challenge, hog hunting in St. Augustine may be just what you're looking for. This guide will give you the information you need to get started.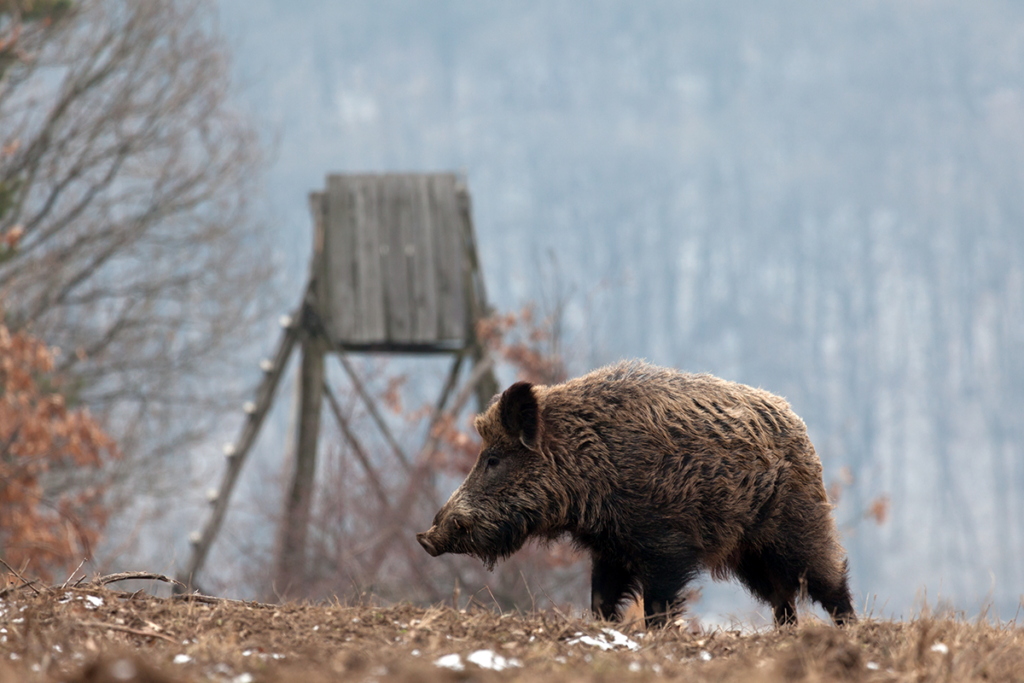 Hog Hunting
Hog hunting is a popular activity in St. Augustine. It provides a great way to spend time outdoors and enjoy nature in the Sunshine State. If you come to St. Augustine to hunt hogs, there are plenty of opportunities to do so. Several companies offer hog hunting packages, making it easy to get started. Private land owners will also allow hog hunting, with permission of course.
Public hunting lands are also a popular option, such as the Mantanzas Wildlife Management Area south of St. Augustine. While Florida doesn't have regulated seasons for hog hunting on private property within the state, these wildlife management areas do have hunting seasons. It is important to research the regulations for each public hunting area before hitting those woods for hogs.
When hunting, it's essential to be aware of the dangers that hogs can pose:
They are large animals with tough skin and sharp tushes (tushes are teeth, resembling tusks) and can be aggressive when cornered. It's important to take all necessary safety precautions when hunting hogs and to be prepared for the possibility of an encounter with one.
Hogs are fast and agile, so you'll need to be quick and accurate with your shots.
Hogs are very good at hiding, so it's important to be patient and look for signs of their presence.
Having the right gear is also critical. You'll need a good hunting rifle and plenty of ammunition. There's no doubt that when it comes to hunting hogs, you want a rifle that can deliver a knockout punch. After all, these animals can be big and tough, so you need a gun that can take them down. That's why many hunters prefer to use a rifle chambered in .308 or 6.5 Grendel. These rounds are powerful enough to penetrate the thick hide of a hog, and they can also deliver a clean kill if you make a good shot.
Granted, the .223/5.56 is also a popular caliber for hunting hogs, but without the ability to make consistent precision shots, it's not nearly as effective as the .308, 6.5, or 6.8 SPC for most.
And, the list of firearms that are capable of taking down hogs is very long. These are just some notes on a few popular options. Even the good ol' "deer rifle", the .270 can be a great choice for hogs.

You'll be in the woods, so make sure you have a comfortable pair of boots.
Wear clothes that will keep you comfortable all day long whether you expect hot or cold weather. You should also bring along a first-aid kit for any injuries and some snacks and drinks to keep you fueled up during your hunt.
Here's a checklist that will help you make sure you have everything you need:
Gun of choice
Bow and arrows if archery hunting
Knife
Warm Clothes if needed
Long sleeve shirts that are suitable for warm or cold weather
Sunglasses
Long pants
Sunscreen
Camera
A Hat
Rain Gear
Outdoor footwear
A cooler large enough for meat
Trash Bags
Drinks and snacks
Flashlight
Scent Eliminator
Insect Repellent
Avid Angler of St. Augustine: Your One-stop Shop
Avid Angler of St. Augustine is your one-stop shop for all of your hog hunting needs. We've got everything you need to get started, from firearms and ammunition to clothing and gear. So come see us today and let us help you plan your next hog hunting adventure!